Happy Friday, reader friends! This week's feature is a novella collection that is launching a new and exciting multi-author project the Arcadia Valley Romance series! Check out the first lines of Romance Grows in Arcadia Valley! Each novella kicks off a three-book series, all set in Arcadia Valley, and each intertwined with the works of the other authors. How cool is that!?!!
Plus some of these ladies are among my favorite authors and the others are new to me! I'm really excited about spending some time in Arcadia Valley! We're going to take a peek at the first line of each novella today and I'm diving in this weekend!
Romance Grows in Arcadia Valley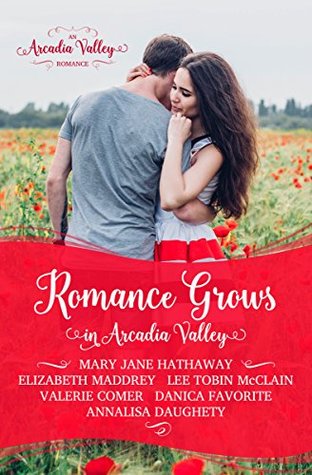 Spring's Blessing by Mary Jane Hathaway
Charlotte McGregor pressed the last tomato seedling into the dark earth and knew with a soul-deep conviction that this garden was going to prove, once and for all, that she knew exactly what she was doing with her life.
I don't know but seems to me that's an awful lot of pressure she's putting on her garden…
Loaves and Wishes by Elizabeth Maddrey
Ruth Baxter dropped her suitcase on the gleaming dark wood floors and pushed the front door closed before sagging against it.
Ugh, poor Ruthy seems to be having a rough day…
Sheltered Hearts by Lee Tobin McClain
Alex Quintana finished mopping the red tile floor of his family's restaurant.
And we have a fella!!!
Sow in Love by Valerie Comer
"No, I don't think so."
Sorry, no extra lines today! I know that one makes y'all want more…
The Scent of Romance by Danica Favorite
When Caroline Hearst walked through the doors of Arcadia Valley Community Hospital, her stomach didn't twist in fear at the look on Dr. Sloan's face as he met her.
That sounds like good news, right?
A Romance Rekindled by Annalisa Daughety
Kate Groves kept a tight grip on her dad's hand and tried to keep her emotions in check.
Uh oh, Kate has something going on…
Learn more about how Romance Grows in Arcadia Valley Romance!
---
So, open the book nearest to you and post the first line in a comment below!
Then go see what these First Line Ladies are up to:
If you'd like to share the First Line Friday fun on your blog, go to Hoarding Books!